Date: 4 August 2018.
Distance: 1.7 miles.
Route: Across the lower Narragansett Bay in Rhode Island from the Naval War College in Newport to Potters Cove in Jamestown.
Conditions: Nice, rather smooth water at start, then changed to choppy about 2/3 across as winds from incoming storm picked up.
Water Temperature: Brisk.
Air Temperature: Comfortable.
Time: Diane 1:45:24. John 1:06:53.
Swimmers: Diane and John Forasté.
Kayaker for Diane: Eric Broudy.






John writes . . .

We did it! Diane and I both had good swims and finished feeling good. Not bad for a couple of 72 year olds. This was her 1st (!) and my 15th.

We did this for 2 reasons: (1) A huge challenge for Diane, who only started swimming regularly since retiring from teaching 2 years ago and only seriously training since February of this year and (2) to celebrate our 50th Anniversary
(2 December 2017).

So, as to let Diane tell the fuller story of both the day itself as well as everything leading up to it, I will say no more than it was a spectacular, unforgettable, dazzling, shared experience and I am immensely proud of her. Our swims lasted less than 2 hours, but the whole process was a serious long term effort. We have a great sense of accomplishment ... and are healthier for it.

See the swim results of all 310 or so swimmers.
(I finished in the middle overall and 2 out of 16 in my 70 - 79 age group.)






Diane writes . . .

My Save The Bay Swim Story

Swim the Bay? Me? Really? Me? Hmm . . .

It all started so simply.

After retiring 2 years ago, I began swimming 3x/week with John at our local pool. I could swim, but had never become a good swimmer. I couldn't consistently flutter kick, would lose my breath after a few lengths, and often had to hold onto the end of the pool before starting up again. But I kept practicing and slowly began to improve, working up to 40 laps without stopping.

For years, John had been swimming his age in laps. For instance, at age 70, he swam 70 laps continuously (70x50 yards, a total of 3,500 yards). So, a little more than a year ago, at 71, I decided to try swimming my age too. I was embarrassingly slow, alternating between strokes, hanging onto the end of the pool a couple of times, but - by hook or crook - I finished the 71x50 (3550 yards) in 2 hours and 10 minutes (2:10). This past February, at 72, I tried again. This time I swam free style the whole way in 1 hour and 50 minutes (1:50). Still slow, but I had improved.

John has always been my kindest and best supporter, as well as an amazing role model. After my swim, he emailed his long-time swimming buddies Phil and Rich to brag about my accomplishment. They replied, probably in jest: "Now she's ready for the Save The Bay Swim."

At first I laughed, because I could never imagine my swimming The Bay. But it got me thinking. Then, as I swam the following week, I thought about it more and more. What a wonderful bucket list accomplishment if I could do it! So, I started slowly increasing my distance as I continued to think about this challenge.

The Save The Bay Swim is a 1.7-mile open water swim across Narragansett Bay in Rhode Island from Newport to Jamestown that benefits programs to protect the health of The Bay. For years, Phil's wife Joanie and I had watched together as John, Phil and sometimes their long-time swimming buddy Rich (aka Coach, who still emails John daily workouts) took off from Newport. We would then hurriedly drive across the bridge to Jamestown to wait their arrival. Always awed by their bravery and skill, it seemed impossible to me to do such a thing.

John had already swum this event 14 times before our moving to Virginia in 2011. On his very first Save The Bay Swim, required to be escorted by a boat, our son Alex rowed a borrowed boat with me in the stern to navigate for him. Now it was my turn to swim. Could I really do an open water ocean swim? After seriously thinking about it for more than 2 weeks after Phil and Rich's playful challenge, I decided to commit. It was now or never.

Phil generously covered our (sizable) entrance fees. Eric, our good friend and a long-time sailor who had kayaked for John many times, agreed to kayak for me (first time swimmers need a kayak and Rich had offered the use of his). Never in a million years could I have done this, or even considered it, without Eric! So, knowing Eric, in whom I have the greatest trust, would be there to guide me, knowing John would be doing this for his 15th time and waiting to greet me on the other side, feeling the wonderful support of family and friends, I started to train in earnest. Motivated by what we were now calling The Swim, I slowly increased my distance and endurance, swimming up to 60 laps (3000 yards, 1.7 miles, the distance of The Swim) in roughly 1.5 hours. That became my new normal.

A triathlete doctor of mine strongly suggested I practice beforehand in the ocean, which she found to be a "whole different animal" than the pool. John and I joined Alex and his family one weekend towards the end of June on the Outer Banks in North Carolina. We arrived late Friday and decided to take a swim. As we entered the nippy water, I was reminded of how cold ocean water can be. Beyond the breaking waves, we began swimming parallel to shore. By the 10th stroke, I wondered what in the world I had done by signing up for the Save The Bay Swim ! Tossed by the waves, left and right, up and down, I felt disoriented and queasy. But I soon settled down and started to feel the rhythm of the waves and to go-with-the-flow as John calls it. The next two days, we swam longer distances, John always staying near my side to guide me.

Phil had originally planned on swimming The Bay with us, but later had to pull out to attend a dear friend's daughter's wedding in Denmark. And Rich had to pull out because of a scheduling conflict. So, the week before the actual event, we drove to Phil's in Westport, Mass to have a nice ocean swim with him and Rich in Buzzard's Bay (Atlantic Ocean). We wanted the opportunity to swim together since they couldn't be with us on the day of The Swim. We then headed to my sister's in Hyannis on Cape Cod to visit and swim each morning at Covell's Beach in Barnstable (Nantucket Sound). The first morning I tried out a neoprene kayak swim top, then the next just a wet suit, and finally the neoprene top with the wet suit over it. That turned out to be the winning combination.

Each day we encountered something different: wind and waves, jellyfish stings, and then even stronger waves that were quite high (at least for me). But all were good preparation for The Swim. John was very, very patient and encouraging, including a pep talk on Monday before the big Saturday swim, when I had a meltdown, thinking I couldn't do it. He stayed right beside me and was "my Eric," guiding me as we swam (I'm a terrible navigator). I felt guilty since he's a much faster swimmer and wasn't getting the workouts he needed. Although I encouraged him to swim ahead, he would stay right near me.

Then came the night before the swim. Eric and Daisy (his wonderful wife) joined us at Phil's (who lent us his home while he was in Denmark) for a traditional pre-open-water-swim dinner of spaghetti and beer. All week the weather forecast had been for thundershowers Saturday morning beginning at 7:00am, the start time of the swim. If that happened, the whole event would be cancelled - and there was no rain date. But we got an email message that night from Save the Bay saying the event was on !

With a registration time of 6:00am and a start time of 6:45am, we got up at 4:00am and were on the road by 4:30am. The sign-in was on the field of the Naval War College. The Navy has become very strict with all kinds of rules, including requiring photo IDs to be checked against the registration lists. We signed in, got our numbers written on our arms and hands, and attended a mandatory safety briefing including warnings about Lion Mane Jellyfish (yikes, what are those?!) and very strong currents off Taylor's Point just before the finish.

There were 4 rounds of swimmers: Round 1 (solo without kayak, John's round), Round 2 (also solo without kayak), Round 3 (with kayak, my round) and Round 4 (with kayak and accessories such as snorkels, fins, etc.).

John entered the water as Eric, Daisy and I all watched him prepare for the start. Then the cannon went off (truly, a cannon!) and the 100 or so Round 1 swimmers were under way. I decided to enter the water at the starting area early to get ready, since it was very tricky to actually climb a low concrete wall with a slight drop to the very rocky (ouch ouch) beach, leading to the water. I was also worried about finding Eric, but spotted him right away. Whew.

Round 2 was off. Then Round 3 and I was off! I swam and swam and swam! Eric stayed right beside me, guiding me. You swim parallel to the beautiful Newport Bridge most of the way. John had told me that once you pass the first stanchion of the suspension bridge and reach the midpoint between the two stanchions, you would be half way. But as I swam, that first stanchion never got closer. I felt as though I were swimming in place. I swam and swam and, for the first time, began to get discouraged, wondering how I'd ever be able to make it to the other side. I popped my head up and called to Eric, "Are we moving at all?" He assured me we were making progress. So I swam and swam. But honestly, it looked like I was losing ground and even going backwards! Again, I popped up and asked him if he was sure we were making progress. Again he assured me we were. Finally, we made it past that first stanchion and then the second.

But trouble loomed ahead. They had told us at the safety briefing that the currents around Taylor's Point could be very strong. I already knew that from listening over the years to the stories of those emerging from their long swim as I waited for John. Then, as Eric and I approached the point, the wind really picked up, the waves increased in size, and we were blown to the right. We kept on. Eric said, "Don't worry. I'll guide you in." And he did. When I finally reached the finish and exited through the roped pathway, I saw John standing there, smiling. What a wonderful sight!!! I had made it!!!

John swam an amazing race. His goal was to swim his age, which for this open water swim meant he, now 72, had to swim it in 72 minutes or less. He swam it in 66 minutes and 53 seconds (1:06:53) ! Without a kayak, he had self-navigated well.

My goal was to swim across in less than 2 hours, at which point, if you haven't made it in that time, they pluck you out of the water so that the Coast Guard can reopen the shipping lanes - and I didn't want to get plucked out! I swam it in 1 hour, 45 minutes and 24 seconds (1:45:24), and I was very happy!

So, we finally did it!

It was a very special part of our year long 50th anniversary celebration. I will always remember this day! And thank you to all of our family and friends for your encouragement and good wishes! It helped a lot!

WE DID IT!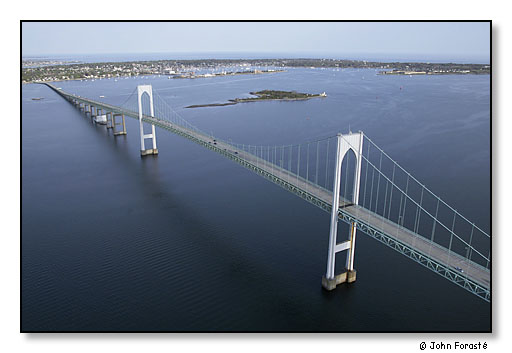 Map data ©2006 NAVTEQ from maps.google.com